Lent is not a time to make yourself miserable. Often we can be encouraged to think that the season of Lent is all about people giving up their favourite treats with the thought that in doing so we will lose some weight and get a little healthier.  For some of us it is also associated with often rather dreary Lent Groups and study, additional services and soul searching.   Neither approach really does justice to the wonderful opportunity of the 40 days that run from Ash Wednesday to Easter Eve (Lent begins on Ash Wednesday, and ends on Easter Eve, the forty days comprising the intervening weekdays, as Sundays do not count!)
Personal Reflection— 40 bags in 40 days
In 2019 we are inviting one another once again to take part in 40 bags in 40 days .  It is a process which allows us to reflect on what is necessary in our lives..- where we focus on cleaning one area per day. In this one area you challenge yourself to declutter, simplify, decrapify, and get rid of things you don't need. The goal is one bag a day but you can have more or less.  It doesn't need to just be material things, it could be emails or issues or even concerns.  The idea is to remove in a small way each day during Lent those things which distract us from faith and living a whole life.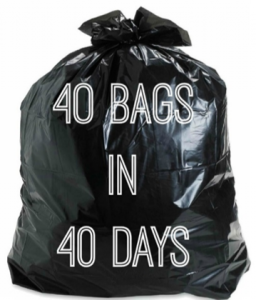 Start small—bag size may vary.  Maybe choose one draw or activity you are going to clear, rather than a whole room.  Allow what you choose to inform your prayer life—what does our clutter tell us about our relationship with God?  How might God inform our living in the days ahead?
Charity
There is also a suggestion about fasting, and about charitable giving.  In 2018 we are also supporting the Bishop of London's  Lent Appeal.  
As Bishop Sarah explains:
"There are at least 40 million victims of modern day slavery in the world today, and tens of thousands in the UK.  According to a National Crime Agency report, 1608 potential victims of Modern Slavery were found in London in 2017. However, we know that the actual number of those enslaved is much higher than this.
"Whether it be a woman or girl trafficked to work in the illegal sex trade, a man forced to work on a construction site or a child married against their will, none are free.
"Micah tells us that "he has shown you, O mortal, what is good. And what does the Lord require of you? To act justly and to love mercy and to walk humbly with your God."  This may be the best-known passage from the book of Micah – it is full of words and phrases that occur throughout scripture: justice, love, kindness, a walk with God.  We should bear this in mind, that life can be safely travelled only if it is made "with God."
"Like Modern Day Slavery, the Kingdom of God lies hidden in plain sight. I believe that, together, we can make a difference, and that by working to reveal these injustices and end Modern Day Slavery, we can reveal the Kingdom of God in London." 
More information can viewed here: www.london.anglican.org/articles/modern-day-slavery-the-diocese-of-london-lent-appeal-2019/
Our collection at special services during Lent, as well as retiring offerings during Holy Week will go to this appeal.
Above all we would like you to be joyful, to remember that as members of the Church God calls us into a relationship with our Creator which is fresh and full of life and hope. Wishing you a happy and holy Lent.
 Opportunities During Lent 2019  – Lent activities Poster 2019
6th March 2019 – Poster – Ash Wednesday
Is the start of Lent and in one of the most important days in the church calendar.  Traditionally Ash Wednesday has been seen as a Holy Day of Obligation—a day when we make every effort to go to church.  Our main service on Ash Wednesday is at 7.30pm at St Anne's.  The service will include the imposition of ashes.  There will also be a Said Mass with imposition of ash at 8.30am at St Anne's.
If you are unable to make this service, there will be lots of Ash Wednesday service during the day within the city of London.
Stations of the Cross is traditionally a series of meditations which follow through the story of the last hours of Jesus life. The 14 stations  follow Jesus journey generally focusing on images, as well as listening to the story.  Each station ends with a prayer.  Meditation on the stations will take place on Sunday 24th March and 7th April at 5 pm at St Anne's. 

Lent Quiet Morning 2019
This year on Saturday 23rd March we will have a Quiet Day/Retreat  at St Anne's.  There will be focused meditation and reflection as well as much silence. We will start at 10am—3pm. A simple lunch will be provided.  Please sign up in church. Cost £5
Our Wednesday evening Lent Reflection will take place each Wednesday evening between 7-8pm, followed by the Eucharist.  We will be exploring what Lent might say to our understanding of God.  On the middle Wednesday – 27th March we will be attending a talk at St Paul's cathedral by Rowan Williams- see www.stpauls.co.uk/learning-faith/adult-learning/jesus-christ-the-unanswered-questions
All Holy Week Services listed here – Holy Week and Easter Services 2018