Holy Week
Maundy Thursday
Thought for the day at 5pm on St Anne's Facebook page.
Zoom Maundy Thursday service at 7pm.  A copy of service with links is here – Order of Service for Zoom Maundy Thursday 2020
Holy Wednesday As part of our Holy Week devotion today we are offering a service of Tenebrae.
Tenebrae means "darkness" or "shadows." This reflective service of readings and music, is in many ways a service of much lament amidst the promise that the light of Christ never leaves us.
There are two versions of the service here, one is designed for those joining the Zoom Service at 7pm.
Zoom Tenebrae Order of Service with Music links
This second version is more suitable if you are doing it by yourself or with others in your household.
Selfguided version of Tenebrae
Holy Tuesday–  Zoom reflection at 1pm or 'do it yourself' reflection –Holy Tuesday – Guided Reflection
Holy Monday – Zoom reflection at 5pm or 'do it yourself' reflection – Holy Monday – Guided Reflection
There are also reflections every day on the Diocese Website – including reflections from each of the Bishop's

With a time of 'staying at home' we may need to approach Lent in a slightly different way.  While our Lent groups and services cannot take place in person – we can still make the most of  this Lenten time.
Lent Studies
Two of the Lent Studies took place earlier in Lent, but copies of the studies can be followed here:
Lent Study 1 – Reluctant Prophet – online
Lent Study 2 – Jonah in the belly – online
due to all that happened last week, we need to cancel week three.  Here is the content however with questions which should allow you to do this at home.  If it raises questions please don't hesitate to be in contact.
Lent group week 3- 2020 – Jonah— successful repentance
Lent group week 4- 2020 – Jonah— God's frustrating Mercy
Now that we are at home, we may have time and space to embrace more fully the 40bags challenge, and use this as a time for personal reflection.
Personal Reflection— 40 bags in 40 days
In 2020 we are inviting one another once again to take part in 40 bags in 40 days .  It is a process which allows us to reflect on what is necessary in our lives..- where we focus on cleaning one area per day. In this one area you challenge yourself to declutter, simplify, decrapify, and get rid of things you don't need. The goal is one bag a day but you can have more or less.  It doesn't need to just be material things, it could be emails or issues or even concerns.  The idea is to remove in a small way each day during Lent those things which distract us from faith and living a whole life.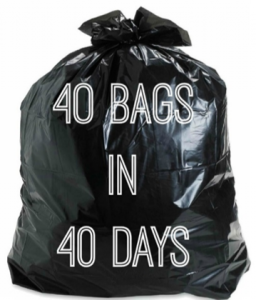 Start small—bag size may vary.  Maybe choose one draw or activity you are going to clear, rather than a whole room.  Allow what you choose to inform your prayer life—what does our clutter tell us about our relationship with God?  How might God inform our living in the days ahead?
Remember, Lent is not a time to make yourself miserable. Often we can be encouraged to think that the season of Lent is all about people giving up their favourite treats with the thought that in doing so we will lose some weight and get a little healthier.  For some of us it is also associated with often rather dreary Lent Groups and study, additional services and soul searching.   Neither approach really does justice to the wonderful opportunity of the 40 days that run from Ash Wednesday to Easter Eve (Lent begins on Ash Wednesday, and ends on Easter Eve, the forty days comprising the intervening weekdays, as Sundays do not count!)
Mark Haggard has summarized some of the tradition from St Benedict for the season of Lent – you can read it  – here
Charity
There is also a suggestion about fasting, and about charitable giving.  In 2020 we are also supporting the Bishop of London's  Lent Appeal.  
More information can viewed here:
Our collection at special services during Lent, as well as retiring offerings during Holy Week will go to this appeal.
Above all we would like you to be joyful, to remember that as members of the Church God calls us into a relationship with our Creator which is fresh and full of life and hope. Wishing you a happy and holy Lent.