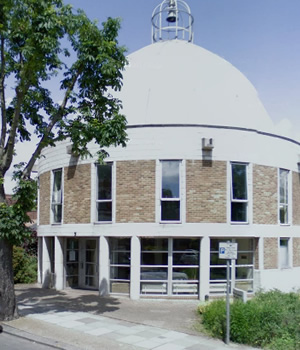 The distinctive domed round front part of our buildings is `London Inter Faith Centre` – a Christian hosted place of engagement, study and interaction between people of different faiths, beliefs and ideologies)
The inter faith work based here relates to and is an expression of our Christian ministry of being "true to self and open to others". That is to say the inter faith work is not a separate and detached specialism but rather is very much related to the rest of our Christian living.
We promote fuller and better relationships and collaboration between those of different faiths – and also among those of ideological perspectives outside the main world religions.
We invite you to engage with us on issues of the day – over a wide range of subjects and questions that we explore in association with London Inter Faith Centre, around the areas of society, social justice, spirituality, religion and so on.
The issues we look at concern faith and life – from the religions and secularism to who we are, separately and together, in our society. We seek to tease out, re-visit and challenge various assumptions.
Keep an eye on www.londoninterfaith.org.uk as Sundays 3-5pm are a favourite time for these conversations, while we also run day conferences, seminars and everything through to a one-night-a-week, three-terms-a-year, two year Certificate in Inter Faith Relations.
For further information try 020 7604 3053 or info@londoninterfaith.org.uk or go to our London Inter Faith Website at http://londoninterfaith.org.uk/